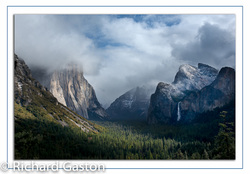 This will sound self-serving. Maybe it is. I was looking at some books of Ansel Adams' pictures at a local bookstore, and came across several photos taken at Yosemite National Park from Tunnel View (plus a lot of other pictures of the Park). I have seen more on the Internet:
Here
and
here
. Without a doubt Adams' pictures are unbelievably fabulous, but there are many other great pictures out there as well. In particular I would draw your attention to
Michael Frye
, whose series of Yosemite images are consistently stunning.
So I was in Yosemite twice in the past four months, and lucked into two unanticipated unstable weather conditions that brought autumn snow to the valley on one occasion, and a mild rain/snow dusting on the other that resulted in the coveted "clearing storm" opportunity. On each occasion I photographed the valley from Tunnel View with very nice results.
Are they better pictures of Yosemite than those of Ansel and Michael? That is definitely not the point (A: No). Because Ansel did not create a picture of Yosemite, but a "feeling" of Yosemite. It is a picture with much more – "something else". In my opinion it doesn't even matter that his pictures were take in Yosemite (although this probably is a stretch because there is no getting around the fact that Yosemite is glorious). The place is not the point. The goal – my goal – is not to have a better picture "of," but to add my own experience, the "mystery" in the shadows, the "fantasy" in the colors (or shades of B&W), the "unsettledness" of the spirit, the "trepidation" of walking down the valley and disappearing into the distance. I was there – I felt. I hope you enjoy my interpretation of Yosemite Valley from
Tunnel View.