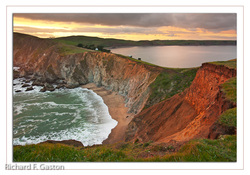 The 50th Anniversary of the Point Reyes National Seashore (2012)
Over the past several years I have had the good fortune to visit and photograph some of the most beautiful spots on the planet, primarily, but not exclusively, in the western US. If asked for advice, it would be easy for me to simplify the process to "go to a beautiful spot, wait for good light and perhaps a "moment" (e.g. weather) and snap away." So it is about me and the weather and some artistic vision and some luck.
Not quite. It is really about "the most beautiful spots on the planet," and the realization that to keep the spots pristine and accessible, vast numbers of employees and volunteers expend huge efforts, often unnoticed and under-appreciated.
This is certainly true at the Point Reyes National Seashore, where I have hiked, taken classes and photographed many times. Fifty years ago a few volunteers and thousands of hours of effort resulted in the creation of this National Seashore designation. Today, the National Park Service and its partner, the non-profit Point Reyes National Seashore Association, work in concert to maintain this incredibly valuable resource in Northern California.
This blog then, is a commercial. Come and visit, but also donate. I took the following off the PRNSA web site:
"PRNSA is the primary nonprofit park partner working with the National Park Service at Point Reyes. As the only federally protected seashore on the West Coast, PRNSA's partnership in helping to fund critical preservation and restoration projects is both crucial and unique. We can't do this alone! The support of PRNSA members directly contributes to endangered species recovery and wildlife protection, habitat restoration, preservation of cultural and historic legacies, and environmental education programs for people of all ages. As a member, you will be protecting Point Reyes as a critical part of a healthy Bay Area ecosystem and as a beautiful park, rich in history, for you and future generations to explore and enjoy."
Of course, all of our parks need support. As the New Year comes in (tomorrow) it is a good time to reflect on how lucky we all are to have such resources for our children and ourselves.
Check out the following web links:
http://www.ptreyes.org/index.shtml
To donate:
https://npo.networkforgood.org/Donate/Donate.aspx?npoSubscriptionId=1002123&code=Home%20Page&utm_source
=Year+End+Message+2012&utm_campaign=50th+anniversary+August+2012&utm_medium=email
And the NPS site:
http://www.nps.gov/pore/index.htm