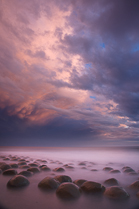 Required reading: To fully understand the following, please review my previous blog item "Light, Tides & Tics" on the
Announcements
page or just below this post.
Armed with a knowledge base acquired during multiple, mostly unsuccessful, trips to Bowling Ball Beach, I set off again following my destiny.
Known facts:

1) Tics hurt, burrow deep and fast. Avoid them!
2) Photography is "painting with light." Fog blocks light. Avoid it!
3) The "perfect" tide for my purposes is between 2' & 2 ½'. The time is now!
4) The weather prediction for today is partly cloudy, with full sun tomorrow. Clouds add interest but can block the light. Chance it!
5) Outgoing tides are difficult to work with. Although they eventually may reach the desired 2 ½ feet, until then (and even then) you are at the mercy of the ocean, surf and waves.
Facts to file away and possibly consider (I didn't):

1) When evaluating tides, think calculus, i.e. tidal flows have slopes. They can linger, or they can rush in or out.
2) A steep slope on an incoming tide was waiting just for me.
I arrived two hours before sunset. Interesting clouds with clear horizon brought with it the likely possibility of good light just at the right time. I was able to walk quite far out into the "bowling balls" and snap off a few pictures for fun while awaiting the ocean water to perfectly fill the bowling lanes. During that quiet time I was not thinking, "rush in," "onslaught," "panic," "race," – those kinds of words.
So the sequence was: a cloud decided to linger near (not on) the horizon, blocking the sun such that the balls and the shore and cliffs remained untouched by the direct warm sunlight that I so desired. Seeing my anxiety (about ½ hour before sunset) the tide burst out of the starting blocks and rolled in with a vengeance. I am standing in ankle-deep water (as I have for the past 2 hours), but now with waves hitting close to my knees. I can take it! My tripod can't. The cloud taunts me. It finally relents, but the water keeps coming fast. I'm aware of my toes (cold) – affects my thoughts, my creativity.
Well, I did get some interesting pictures. A softer tide, a more gentle and loving tide, or a more generous and caring solitary cloud would have allowed me to take a few more. I guess they want me to come back.
I have updated my
BB beach slide show
to include shots from all my trips. They are in order of capture so the latest are at the end.