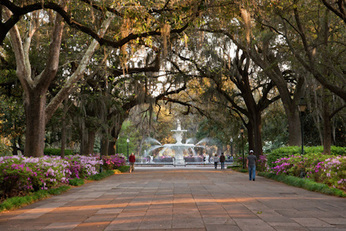 Historic Savannah is geometrically designed and contains multiple (at least 24) 2-block large "squares," both beautiful and historically significant.
The terrain is flat, and the entire district is easily walkable.
Here are my top 10 suggestions:
1)
To get a layout overview, on day one walk as much of the city as possible.
Don't miss the river walk along the Savannah River at the north edge of town.
2)
Take the free 5-10 minute ferry ride across the Savannah River for sunrise or sunset pictures of the riverfront area.
3)
Signup for a hugely informative historic walking tour with
Savannah Dan
– 2 hours.
4)
Go back to one or two of the squares for early or late pictures.
5)
Eat at the best restaurant in town, The Olde Pink House, 23 Abercorn, 912 232-4286.
Outside on the balcony is great, but try to get down to the basement bar for a drink and entertainment (Downey Mosley on the piano) before eating.
6)
Visit Tybee Island, an easy drive from town.
Get to the lighthouse area for sunrise pictures.
Walk on the great beach, and then drive over to the small town of Tybee.
Prior to leaving the island have lunch at the famous Crab Shack, and then take a very informative guided tour of
Fort Pulaski
.
You can easily be back in Savannah by late afternoon.
7)
Visit one or more of the historic homes in town – information at the Visitor Center.
8)
9)
10)
Drive to Charleston (100 miles), stopping at Bluffton and Beaufort along the way (lunch).
Lots to do in
Charleston
, the topic of another post.
Click to view a few pictures of
Savanah and Tybee Island
.