The "Friends of Photography" was founded by Ansel Adams, Brett Weston and other internationally recognized photographer-colleagues in Carmel, California in 1967. How about having those guys on your company's profile cover page? The organization quickly established itself as a premier venue for West Coast fine art photography. Later it moved to San Francisco, eventually closing its doors in 2001. The Center for Photographic Art (CPA), established in 1988 in Carmel, has inherited the mission/tradition of "Friends," while at the same time respecting and highlighting the future evolution of photographic imagery. I highly recommend your bookmarking their site:
http://photography.org
and visiting it often. Visit the center if you are local, and consider joining and contributing if possible.
Well!! One of my pictures was chosen for display in the recent CPA gallery's 2015 Members' Juried Exhibition (late-July to mid-September) - one of 40 pictures selected out of several hundred submitted (by juror Richard W. Gadd -
https://www.linkedin.com/in/richardgadd
). And another was chosen for the 2015 International Juried Exhibition, by juror Robert Hirsch -
http://www.lightresearch.net
(mid-November through early January). I hope you will visit the latter to see all of these fabulous pictures – I am looking forward to viewing them as well. There will also be a Web showing.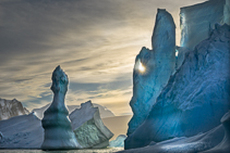 So what about my two pictures? They represent two approaches to taking pictures, one fast, one slow.

The first was taken from a slowly cruising Zodiac inflatable through an ice field in Antarctica with beautiful early morning sunlight. Here was the problem. It is difficult to change lenses while on a moving Zodiac with 7 other photographers and wearing a heavy parka. Can do? – I couldn't. You make your choice before boarding. In this case I chose my 70-200. Then there are the people. Actually, the client photographers were all great, kneeling or sitting/standing to allow everyone a view. EXCEPT the leader, who stood in front, blocking views, and getting first dibs. I've been there before while bass fishing. Could I shoot through his legs? I liken this (Zodiac shooting) to sports photography. Pick a shutter speed – in this case fast enough for the long lens hand held as well as the boat movement. Decide on depth of field – I wanted some. And then set ISO for exposure compensation. As we passed by this particular iceberg grouping, I could see that at my minimum 70 mm I was going to jusssst fit everything in. I was able to fire off 3 shots. I could see the sun approaching the hole at the top berg, hoping that the boat would hold the line. I got it, with a sunburst! In the other two shots I cut a bit off the top in one and the bottom of the other. I am very happy with the result, but just to say the opportunity was fleeting. Just like a touchdown.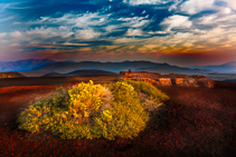 There are two parts to the second picture. I and everyone else enjoy taking beautiful pictures of beautiful places, especially during moments of beautiful (meaning unruly) weather or some other natural but unusual phenomenon. My family/friends love those shots. But it is often "not quite" for me. So when possible, I prepare ahead, thinking about what "I" can bring to a photo shoot, what feeling or attitude is invoked in me that I in turn can capture on a sensor (with Photoshop's help). I tried this on a shoot earlier this year on Easter Island. Before my trip I read much of the history of the Island and the Rapa Nui people and the Moai that they constructed. I considered mystery, spirituality, reverence of ancestry – what did I want to show? My experience there was thrilling, but I don't think the photos quite matched my intent. I tried:
http://www.richard-gaston-photography.com/easter-island-2015.html
With Craters of the Moon National Monument and Preserve it would seem to be a bit easier. Make the pictures look lunar. I had one evening and one morning to shoot. I set my compositions to evoke that intent, knowing that I would be doing some tweaking (actually TWEAKING) in post. You can see a few
here
. When I decided to submit pictures for this Juried Exhibition, I chose 4, believing that they were unusual and that "Craters" was rarely photographed. I was pretty sure that if any was chosen it would be the one just above. Wrong! That is the second part of this story – what you like may not be what others like or at least like best. But I like the one just below too. Definitely a moment on the moon. Thanks Robert Hirsch.