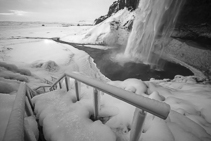 ​
What's in a name?
Two Chieftains, one Danish and one Norwegian, walk into a bar. The Norwegian says that he has discovered a lovely large island in the North Atlantic, just below the Arctic Circle, that is snow covered and icy much of the winter (but not too bad) and green and gorgeous much of the summer. He is afraid his wife will want to join him there, so he has decided to call the place "Iceland."
The Dane says he has discovered a large land mass lying above the Arctic Circle, covered permanently to at least 80% by think glacial ice. He is not married and wants his girlfriend to join him, so he is calling his discovery "Greenland." Good luck when she finds out the truth.
Well, I went to Iceland - in the winter. At the suggestion of a friend I "prepped" by reading a mystery novel by the famous Icelandic author Arnaldur Indridason, and parts of "Njal's Saga," one of about 40 family sagas written in the 13th and 14th centuries.
I found that the problem is not being in Iceland, but returning home, where you immediately get the flu (102 degrees) and have to do your taxes. So if you go, stay there. It is quite a place.
So what about the photos? Well, the temps hovered in the low 20's the entire time. The good news is that the low temps kept a layer of beautiful white snow untouched for the entire week – no melt. But – I wore every layer I had all day every day. My eyes watered continuously making composing extremely difficult. I could not manipulate the camera with gloves on, so dealt with frozen fingers most of the time. I dropped and broke my long lens and had no backup. Two photographers fell into a river, on top of each other, losing the use of several cameras (for some reason they were carrying their backup equipment on their bodies). The ice was thick and slick and omnipresent, requiring wearing spikes over our hiking boots most of the time. Several of us (yes, including me) went to ground, but no injuries. Winds were 30 knots and above much of the time, so tripod shake and wind-chill were ever present. Hiking in a sea of whiteness is not easy. Toss in a blizzard here and there just for fun.
Did I get some pictures? A few. No homers. But it was a real caper – glad I went (with my son helping out). You can enjoy my set of pictures as a sort of
travelogue
.
The other extreme problem is that Iceland has been discovered, and tourism seems to me to be a bit out of control. Busloads of tourists at all sights IN THE WINTER! They don't necessarily take pictures (just iPhone shots). My own view was that they had the right to have fun, and I stayed clear of the crowds when possible. No fights. I think summer travel there must be difficult unless you don't care about crowds.
Not sure if another trip there is in my future. If so I will probably be more self-guided.
That's it. If you hear of any opportunities for photographers in Hawaii or Cabo, let me know.