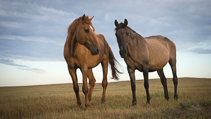 OK. Four months after my last blog – see below - I have (nearly) finished my project (projects are never completely finished). The road was not straight. I am interested in the plains, Indian and pioneer history, Buffalo Bill and outlaws, cowboys and horses. However, not so much as a photographer. Then in June I took a workshop photographing mustangs in that region of the country. I had never taken wildlife pictures before, but mustangs on the plains had a definite appeal. I did take pictures, met a remarkable woman (Karen Sussman) who is president of the International Society for the Protection of Mustangs and Burros, read some books, learned something about DSLR video, GoPro video and point & shoot video, wrote out a story board, learned something about sound systems (not enough it appears), went back to take some video clips, learned video editing and finally sat down to put that puzzle together. My result is linked at this end of this discussion. Wild horses in the western US raise concerns that shouldn't be ignored. Please take time to view the movie (22 minutes – you may need popcorn). Besides the interview with Karen, I managed to highlight some of my pictures of the region and strung together a nice set of my horse pictures that hopefully you will enjoy. I also hope the video will raise awareness of the pressing issue of wild horse management.

For those of you who wish to go back and see just my horse pictures, I present only that clip in the second video.
Finally, in September I did a trek through the Southwest and will be posting some of those pictures soon, now that I have time. Here are a
few.