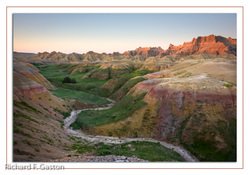 New Pictures
Here
They say the only obstacle to the unremitting winds that sweep down from Canada and blanket the prairies of South Dakota was a barbed wire fence, and it blew down. There is a sign along a main road in the west-central part of the state, an "homage" to the people who live there - The People of the Prairies:
"(They)…are like the land they love. They draw strength from the winds that blow across their plains and they draw warmth from the sun that melts the snow or beats mercilessly on the parched earth of summer. (They are)…as determined as the blizzard that drives all before it."
Eva K. Aglesburg wrote:
"For where land lies level as far as the eye can see;
Where nature's moods are so diverse,
Where so tremendous is the spanning sky
That one seems centering the universe,
It is not strange the prairie's sons have grown
To be like her, have virtues like her own."
Do you get the idea? I don't want to live there, but I wanted to go there. These plains hold history, important American history. A circle on a map, the center of which lands on Rapid City, SD with a radius hitting Eagle Butte, will contain sacred Indian sites including the Black Hills, Devil's Tower in Wyoming, Bear Butte and the Badlands, along with parts of the Oregon/Pioneer trail through Nebraska, and cut very close to the battlefield of the Little Bighorn River, where Custer made his last stand. It also will capture a small part of a large Lakota Indian Reservation, and include small herds of wild mustang horses genetically related to those brought to New Spain by Cortez and subsequent explorers/settlers. Mount Rushmore and the Crazy Horse Monument lie within the circumference as well.
Indian stories or myths vary depending on the tribes. A bear chased young girls up a large rock in Wyoming, leaving scratch marks on its sides (Devil's Tower). The bear moved on to the Badlands where it was wounded fighting a dinosaur. Subsequently it moved on and became today's Bear Butte. If it is awakened it could foretell the end of the earth. Indians climb this sacred rock and leave colorful ties of honor.
I climbed that rock, feeling spiritual, and thought of friends and family, living and deceased. I visited the other sites. I experienced rain, hail and lightening. I became worried about the survival of the mustangs, the last link to our US western heritage. I hiked the Black Hills. Woke up early in the Badlands. And so on!
I have started a photo project that includes much of the above. Eventually this will become a story in pictures, videos ad text. I am early in phase one of this assignment. The link here is to the "
trailer
."