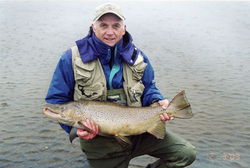 Near the end of my recent photography trip I met up with some friends near Casper, Wyoming to fish the North Platt – trout, catch & release.
The lodge gives out "25" logo hats to those anglers who land a 25 inch trout or better.
I am sure I hooked a 28 or 29 incher – a
giant
– but I didn't land it – no hat.
Of course I (and my friends) have already signed on for same time, next year.
The "almost" gave me a taste of a truly great fish; I'll definitely be back.
I love fly-fishing.
Photography is not dissimilar.
We look for the "25" but often have to settle for the 18 or 20.
We can seek out the best light (dawn and dusk), but can sometimes get skunked if dense cloud cover obscures the rising or setting sun.
More often the problem is a lack of drama or moment – we want
some
clouds, a rainbow, lightening, a storm, unexpected wildlife showing up in the scene, but no – we make do and still celebrate the beauty, but miss getting the "hat."
I spent two weeks covering
Cedar Breaks
, Bryce, Coral Pink Dunes, the
Pawnee Buttes
,
The Grand Tetons
and
Yellowstone
.
Maybe my inspiration level was low, maybe it was too hot to get enthused, maybe my compositions just didn't click.
Most of the time "photographic weather" remained elusive, spooking the fishing.
So I am putting up a few of my shots, but like fishing the North Platt, a "25er" will require a return visit (and not in July or August).